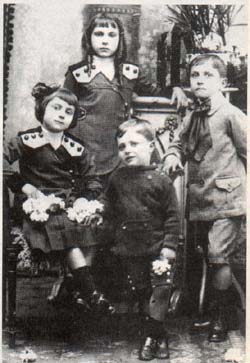 Many automobile enthusiasts consider Juan Manuel Fangio to be an almost mythical figure and grand master of the racing world. His legend only deepens based on his unforgettable exploits on the race track which vastly overshadowed his peers. But beyond his racing accomplishments, Fangio possessed a unique personality which makes his memory even more indelible.

J. M. Fangio was born in 1911 in Balcarce, Argentina. He was the son of Loreto and Herminia Fangio, Italian immigrants who had come from the charming Chieti Province of east-central Italy. His first name honors his patron saint, St. Juan, and his middle name recognized the King of Italy.
Don Loreto worked as a stonemason and painter. He was a good provider and, as the family grew, he was able to improve his family's living standard.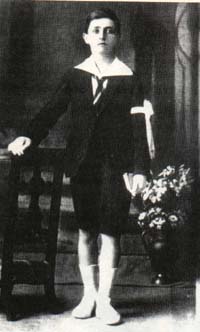 Juan Manuel began his schooling at the age of six, and by the time he was 11, he was already an apprentice in a metalworking shop. Soon he took a job in an automotive garage which first brought him into contact with "those infernal machines". By cleaning car parts and observing their function, he acquired a life-long fascination with auto mechanisms. At the age of 13, he got a job at the local Miguel Viggiano Studebaker dealership as a trainee mechanic. To his delight, this agency also prepared race cars, thus expanding his mechanical knowledge many-fold. His duties included driving the agency's car on pickups and deliveries to nearby towns. The roads posed many driving challenges, and Juan Manuel enjoyed driving them so much that his employer convinced him to forego a salary until the end of his first year. At that time, the agency gave him a 4-cylinder Overland which became his first romance.
Unfortunately, Juan Manuel contracted pleurisy and was bedridden for almost a year. After recovering, he served in the army and returned home strong and fully fit, having matured into manhood. After his discharge, his father gave him a small piece of land on which to start his own mechanics shop. Soon this little shed, and later a workshop in the center of Balcarce, became a favorite gathering place for his friends and local car enthusiasts.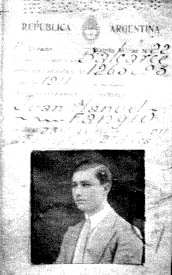 His first car racing opportunity came in 1936 when, at the age of 25, he and his friends converted a borrowed 1929 Ford taxi cab to drive in his first dirt track race. He used the alias, "Rivadavia", so his parents wouldn't discover his dangerous new hobby. He was driving in third place when a broken drive shaft ended his racing debut. But by now he was "hooked" and had garnered widespread local attention.
With help from his loyal friends who contributed to his purchase of a 1939 Chevrolet, Juan Manuel began entering the carreras races – long-distance events involving many days of driving over treacherous mountain roads. The races lengthened, often covering large sections of South America. His first, major carreras victory came in 1940 in the Gran Primio Internacional del Norte. This 5800-mile race ranged over unpaved roads from Buenos Aires to Lima, Peru and back, crossing the Andes twice. Driving in daily stages, the race took two weeks with all repairs being made, with limited time and resources, by the driver and co-driver. Fangio's, and his friends', efforts were rewarded in both 1940 and 1941 when he was named carreras road champion in both years. The on-going rivalry between Ford and Chevrolet was dramatized by these races in which Fangio, in his Chevy, dueled with countryman and life-long friend, Oscar Galvez, in his Ford.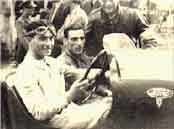 At this point, World War II intervened, leading to rationing and shortages which stalled what was becoming for Fangio an illustrious racing career.
But his notoriety, coupled with his good business sense, helped him make good use of this time period. He bought and sold trucks and used tires, items in high demand, traveling throughout the region and building a reputation for loyalty and honesty. It was a poor substitute for racing, but he was gaining both financial resources and supporters. Fangio could only hope that, when the war ended, he would not be too old to compete in racing again.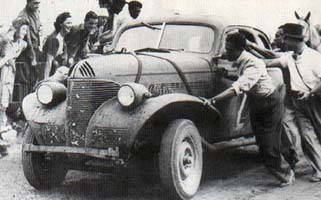 Racing finally resumed in 1947 when Fangio was 35 years old. The following year, President Juan Peron selected Fangio to join an experimental, government sponsored Grand Prix team to race in Europe along with his friend and rival, Oscar Galvez. Finally competing against the world's best Grand Prix drivers, he and Galvez both won significant races on the European circuit. Thus encouraged, the Argentinian government purchased two Maseratis and launched a full-fledged race effort for the 1949 season.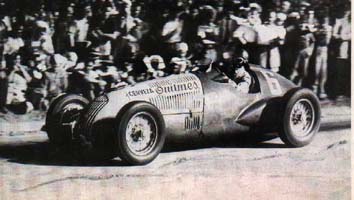 Fangio won the first four Grand Prix races, and a total of six out of ten in 1949, solidifying his position as a serious contender for elite Formula 1 driving status. In August, he returned to Argentina a national hero and was received by Juan Peron at the presidential palace.
In 1950, Juan Manuel Fangio joined the Alfa Romeo racing team and, after dueling in many races with teammate Nino Farina, finished the season as the runner-up for the Grand Prix driving championship. In 1951, at the age of 40 and driving an Alfa Romeo Tipo 159, he won the first of his five driving championships.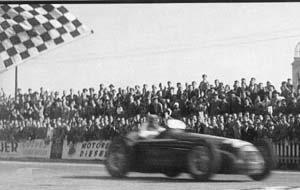 A terrible accident near the start of the 1952 season almost ended Fangio's racing career. After a race in Belfast, he had promised to drive in a race at Monza the next day. But he missed his connecting flight in Paris and, unwisely, decided to drive all night to Monza, arriving one-half hour before the start of the race. Deeply fatigued, and starting from the back of the grid, he made a mistake in shifting gears and lost control. His Maserati's slide deepened despite his efforts to steer into the skid. Jolting off the outside edge of the track, the tires lost all traction, and when they hit the earthen bank beyond, the car became airborne, flipped end-over-end. Thrown from the car, Fangio was knocked unconscious and spent the next several hours near death. His neck had been broken. He spent the rest of the 1952 season recuperating. The following year, still driving for Maserati, he finished second in the overall driving championship.
Since he started his career as one, Fangio appreciated the role played by his mechanics, always giving them a percentage of his winnings. His loyalty to them paid off. During practice runs for one race in 1953, his car developed a severe vibration. But on race day the problem had disappeared. Secretly, the mechanics had switched the cars' numbers in the middle of the night, giving the vibrating one to Fangio's teammate.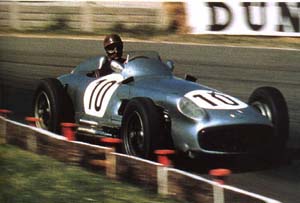 1954 marked the first of a series of four consecutive world championships for Fangio. Although officially driving for Mercedes, he was assigned to the Maserati team again while development of Mercedes' new cars was completed. In the 12 Grand Prix races he entered that year, Fangio won eight of them. The following year he joined Stirling Moss in driving for Mercedes. Stirling dubbed him "The Maestro" (master) for his driving ability, and also observed, "The skill that Fangio had was enormous. What made him great was his concentration and his balance of the motor car."
Fangio's fourth driving championship came in 1956 during which he drove for Ferrari. "El Comendatore", Enzo Ferrari, was actually disdainful of Fangio because of his many previous wins against his own Ferraris and their drivers. Enzo would say that Fangio would not win another championship unless driving his cars. But when Fangio returned to Maserati in 1957, and despite the Ferrari team's illustrious drivers like Mike Hawthorn and Peter Collins, Fangio was again crowned champion with Maserati.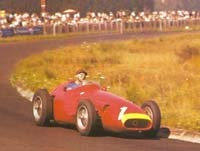 Fangio's fifth, and last, championship came in 1957 along with perhaps his most memorable race, the German Grand Prix. A delayed pit stop at the Nurburgring left him several laps behind the leaders. He drove miraculous lap times to catch up, and, on the final lap, managed to overtake and pass the two leading Ferraris. Mike Hawthorn, driving one of them, commented on Fangio's audacity by saying, "If I hadn't moved to one side, I'm sure the old man would have simply passed over me." With this victory, the French Academy of Sports gave Fangio its annual "Sports Achievement of the Year" award.
At the French Grand Prix the following year (1958), Fangio finished fourth in his Maserati 250F, which wasn't competitive that day. As a sign of respect, Mike Hawthorn allowed him to cross the finish line ahead of him without being lapped. Afterward, it was to his mechanic that Fangio said simply, "It is finished." And, with that, he retired.
How good was Fangio? Of the 51 Grand Prix races he entered, he won 24 of them. Not finished, not placed, but won -- and he placed second in 10 others. That's a record that will likely never be matched. Fangio also holds the highest average points per race of all Grand Prix drivers.
Juan Manuel Fangio died in Argentina in July 1995 at the age of 84 surrounded by his family and in a country which always idolized him. His record of the number of Grand Prix races won, per those he started, will likely never be equaled.
English version by UTaC Team and Steve Barber
Special Thank´s for the translation of Steve!.